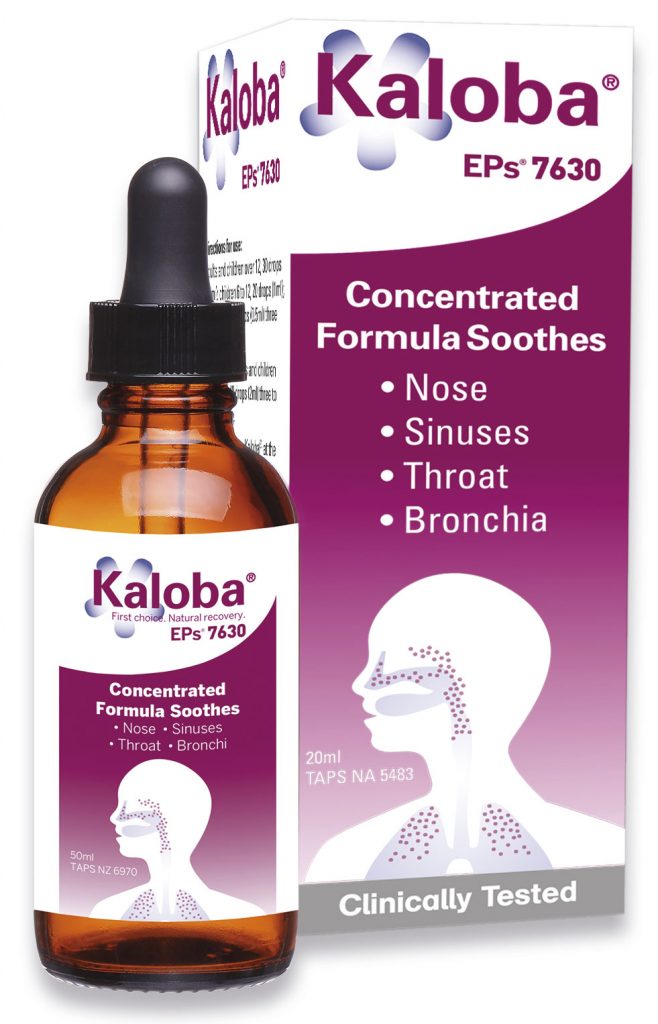 What is Kaloba?
Kaloba EPs® 7630 is a highly-concentrated root extract from the Pelargonium sidoides grown in South Africa. It has been scientifically and clinically proven in double blind placebo controlled studies with over 10,000 patients (involving adults and children from 1yr) do have the following properties.
Anti-viral
Anti-bacterial
Immunodulating (Your immune system responds when under attack)
No other single product sold in NZ has these properties and substantial evidence to support those claims.
There is not one single active ingredient, rather a unique combination of several constituents that give Kaloba EPs® 7630 these properties.
Kaloba EPs® 7630 has been sold globally to 50 million patients over the past 30 years.
How Does Kaloba Work?
The respiratory system (nose, throat, chest, sinuses) is prone to infections. The first signs of a viral infection are; tickle in throat, itchy eyes, sore or aching body, runny nose. Kaloba EPs® 7630 guards against this infection by creating a protective coating film over the mucous membrane. This make it difficult for the viruses to get hold/attach to the cells and thus the viral attack is stopped.
Kaloba EPs® 7630 is also affective after an infection has subsided or when a viral infection turns into a more serious secondary bacterial infection, by reducing the infiltration of new viruses and bacteria. In summary Kaloba EPs® 7630 deals to the root cause of infections and deals to them quickly and efficiently.
Who is our target consumer?
Anyone (from 1yr) who has a cold, sore throat or cough
Asthmatics as it will help reduce the number of attacks this winter
Everyone who purchases a "symptomatic relief" cold and flu product such as Codral. Explain to them that one product will relieve the symptoms, but Kaloba Eps® 7630 will help treat the cause of infection and reduce the duration they will suffer for
Those that want to protect themselves from infections from others, for example; Travel, sick children/work colleagues etc
Kaloba EPs® 7630 is an evidence based natural medicine which can help deal to the root causes of Upper Respiratory Tract Infections – recommended it with confidence